Booth:
CMR Group

Cmr Group -
30 Pages
ITALIA Italy
Sede centrale di Albinea - Albinea head factory Lufficio tecnico-commerciale, avvalendosi dipersonale competente e di supporti softwared'avanguardia, Ҩ in grado, collaborando edintegrandosi con le risorse dei clienti, digarantire assistenza e consulenza tecnica(realizzazione disegni cad. 2-3d), sin dalleprime valutazioni tecnico-economiche di unnuovo prodotto. The technical-commercial office having skilledpersonnel and avant-garde softwares, is able,cooperating and becoming integrated withcustomers resources, to guarantee assistanceand technical suggestions, (drawings carrying-out in 2-3d CAD system), even from the firsttechnical-economical valuations of a newproduct. 6 >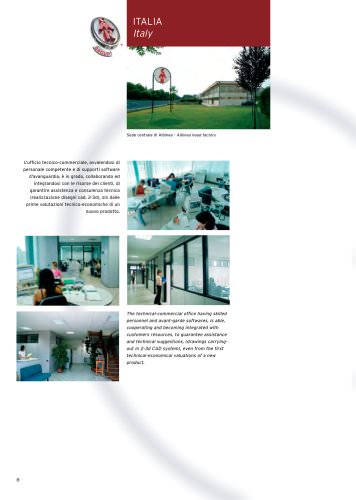 P. 2

IL GRUPPO CMR CMR GROUP >

P. 3

CMR GROUP CHI SIAMO CMR company was established in Scandiano(RE) Italy in 1990 and started its activityproducing, for the ceramic Industry, pulleys,glazing...

P. 4

SEDI PREMISES Il Gruppo CMR in breve Sede centrale di Albinea - Albinea head factory Anno di fondazione: 1990Numero di societ: 3 Numero di stabilimenti:...

P. 6

LA STRUTTURA Le strutture consentono la realizzazione difusioni in ghisa o acciaio, microfusioni, fusioniin alluminio, sinterizzati, stampaggio a caldo(acciaio),...

P. 7

ITALIA Italy >THE STRUCTURE 8 size="-2">

P. 8

The structure permits, offering so reliability and flexibility to customers, the realization of:1) cast-iron and steel investment castings2) inox,...

P. 9

ITALIA Italy IL COLLAUDO TESTING RULLI Collaudo: Il reparto verso il quale ը stata da sempre perseguitala filosofia della concretezza, dispone...

P. 10

MONTAGGIO ASSEMBLING SECTION MAGAZZINO STORE Logistica e Servizi: CMR offre la possibilitՠdi effettuare presso le proprie sedi un serviziodi magazzino...
Text version
All CMR Group catalogues and technical brochures