Booth
CASTROL Industrial
Catalogues

News

Exhibitions
Rustilo DWX 21 -
2 Pages
Product Data
Castro! Rustilo DWX 21
Dewatering corrosion preventive
Description
Castro! Rustilo™ DWX 21 is a powerful solvent deposited corrosion preventive with excellent dewatering properties. The solvent, after evaporation, leaves an oily protective film.
Application
Rustilo DWX 21 rapidly removes water from components subsequent to electroplating processes, after machining using soluble cutting fluids, or parts that have been washed.
The residual oily film provides effective short-term protection against corrosion on parts and components during intermediate storage or transportation.
Although Rustilo DWX 21 can be applied by brushing or spraying, its dewatering action is most effective if the articles to be protected can be immersed in a dip tank.
Advantages
• Forms an even film.
• Excellent water displacing and penetrating properties.
• High stability against acidic and alkaline contaminations.
• Long bath-lifetimes possible.
• Economical in application.
Characteristics
Unit

Test Method

Value

Appearance

-

Visual

Brown, cloudy fluid

Relative Density @ 15 0 C

kg/m3

-

813

Flash Point, PMCC

°C

ASTM D 93

> 38

Film Type

-

-

Oily

Total Film Forming Content

%

-

30

Film Thickness

urn

-

3- 4

Consumption

kg/100 m2

-

1.0- 1.2

Corrosion Protection, Indoor Storage

Month

-

3

Corrosion Protection, Outdoor Storage*

Month

-

1

Drying Time @ 20 o C

Min

-

60
(assumes primary protection from the elements by tarpaulin or other form of cover)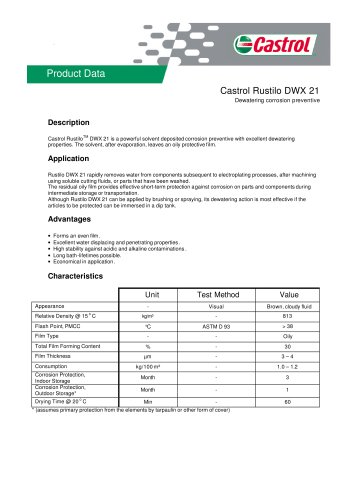 P. 2

Additional Information If required protective films of Rustilo DWX 21 can easily be removed by using a petroleum solvent or alkaline process cleaner,...
Text version
All CASTROL Industrial catalogues and technical brochures
Archived catalogues