Gold Ribbon™ Cog-Belt® -
4 Pages
V-Belts
6
Gold Ribbon™ Cog-Belt®
• HIGH PERFORMANCE
CONSTRUCTION
• 50% LONGER LIFE
• 30% HIGHER HORSEPOWER
• GREATER DESIGN
FLEXIBILITY
• MATCHING
• ENERGY EFFICIENT
PERFORMANCE AND SAVINGS
IN ONE PACKAGE.
The Gold Ribbon Cog-Belt gets the job
done anywhere there are space, weight
or pulley limitations — or where
increased horsepower capacity and/or
higher speeds are necessary. Using
smaller pulleys the Gold Ribbon Cog-
Belt provides a higher horsepower
rating than any other V-belt on the
market. They enable you to design
more efficient, more compact, more
profitable drives.
Ordinary wrapped belts waste energy,
time and money. The Carlisle Gold
Ribbon Cog-Belt has been modified
and improved to take advantage of
countless developments in materials
and technology. Today's Gold Ribbon
Cog-Belt has earned industry wide
respect and acceptance as The
Performance Leader.
MORE REASONS TO SWITCH
TO THE CARLISLE
GOLD RIBBON™ COG-BELT®
• Specially formulated Neoprene com
pounds withstand extreme heat, dirt,
grease, chemicals and environmental
conditions.
• Design flexibility — Gold Ribbon Cog-
Belts transmit up to 30% more horsepower
than conventional belts
utilizing the same drive space — or
pack the same horsepower into a
space 1/2 to 2/3 the size.
• Replace noisy, high maintenance
chain and gear drives.
• No excessive heat build-up or wear
problems even under adverse
operating conditions such as reverse
bends, backside idlers and constant
starts and stops.
• Save space with narrower pulleys,
shorter centers and smaller pulley
diameters.
• Reducing weight and overhang
decreases bearing loads.
1/2" 21/32"
7/8"
AX 11/32" BX 7/16" CX 9/16"
1 1/4"
DX 3/4"
Recommended Pulleys
Carlisle QD Type
(B, C, D)
Horsepower Rating Comparison
HP
Gold Ribbon Cog-Belt
Conventional Wrapped Belt
6.0
4.0
2.0
0.0
1500 RPM
1.5:1 Belt Drive ratio
Gold Ribbon's unique construction (combining the superior flexing of precision molded cogs
with the tenacious gripping power of Raw-Edge sidewalls) provides significantly longer
belt life, higher efficiency and horsepower ratings and opportunities to save time, energy
and space.
Raw edge sidewalls
produce a higher
coefficient of friction.
Keep a tighter grip on
the pulley. Minimize
slippage. Improve
performance and belt
efficiency for unmatched
economy of operation.
Gold Ribbon's unique cog
design permits flexibility
that enables the belt to
bend more easily
around the pulley. It
runs cooler, and less
heat means longer belt
life. Gold Ribbon uses
less power too. Smaller
pulley diameters mean
lower cost and space
savings.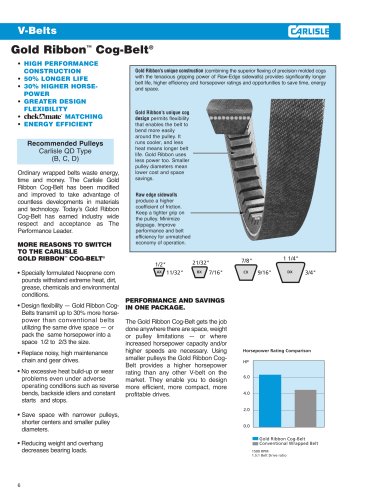 Text version
All Carlisle Power Transmission/Dayco catalogues and technical brochures
New Power-Wedge

2 Pages
Archived catalogues