Article, "The Use of Non-Contact Thin Gap Sensors in Controlling Coater Gap Uniformity" -
15 Pages
1
The Use of Non-Contact Thin Gap Sensors
in Controlling Coater Gap Uniformity
Written by Bryan Manning Capacitec PO Box 819 Ayer, MA 01432
Tel: 978-772-6033 Fax: 978-772-6036 email: sales@capacitec.com
Summary
This article will cover the use of capacitive non-contact thin gap sensors in
controlling coater gap uniformity
The discussion will begin with a description of various coater die gap applications.
It will lay out the measurement challenges facing these applications as well as the
traditional methods used to measure gaps. Next will be a brief description of
capacitive technology. This will be followed by a detailed description of the
development of a new capacitive sensor system including specialize sensor wands
and customized fixturing, sensor electronics and signal conditioning software.
The conclusion will show how the use of this new system has made dramatic
improvements over traditional gap measurement methods achieving coater gap
uniformity better than 10 microinches (0.25 microns) across the full length of the
coater die.
Application Description
Capacitec has been working closely over the past 10 years with the leading global
manufacturers of tapes and films for various commercial and industrial uses. The
development was pursued directly with end users as well as with various coater
suppliers.
The common thread between these users is the utilization of slot extruder dies to
apply a variety of very thin chemical, adhesive and photographic coatings to a
variety of media.
Specific examples of applications include:
• Adhesive coatings onto labels
• Chemical coatings onto films and tapes
• Photographic coatings onto films
• Manufacture of plastic tapes
In a typical applications the coater die slot gap sizes range from 0.006" (150
microns) to 0.024" (600 microns) with a typical set of slots being 0.006", 0.008",
0.010", 0.012", 0.014" etc. The length of the slot gap is typically 3 to 6 feet (1 to 2
meters) wide.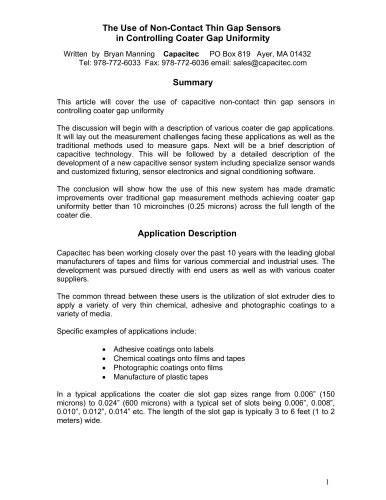 Text version
All CAPACITEC catalogues and technical brochures
Archived catalogues
Disc Brake

4 Pages

Standard products

12 Pages