Booth:

BYK Gardner USA
Group: Altana
Transparency haze-gard plus -
3 Pages
haze-gard plus
The Objective Standard
for a Clear View
The haze-gard plus quantifies the visual perception with objective
measurement data. All essential criteria for transparency can be
measured with one instrument:
■ Total transmittance
■ Transmission haze
■ See-through quality
The Industry Standard
according to ASTM
■ Reference beam, self-diagnosis, and enclosed optics
guarantee accurate readings - anytime
■ Built-in statistics with average, standard deviation, coefficient
of variance, and min/max
■ Large storage capacity and data transfer to a PC for
professional documentation
Quick Measurement of
Variety of Samples
■ Open sample area for small and large specimens
■ Foot switch and automatic measurement allow hands-free
operation
■ Ready for measurement without warm-up time
■ Automatic and long-term calibration allow easy and fast
operation of the hazemeter
■ Operation in English, German, French, Spanish and Italian -
switchable
Documentation
of Measurement Data
Transfer your measurement results from the hazemeter to tl
easy-link software for further data processing in Excel®.
UH 1—* S""l hjrJ In*. Qn Wntw tm _Jn3i

MOnMiyfrttUllr | CJnLnA 'OFT | DllHIlM | DtdtftlTriM | Cotfg. Hdp.

-

5&mptB CumriWf hfeftod T H C
BYK-GardnerGmbH • Lausitzer Strasse 8 • 82538 Geretsried • Germany • Tel+49 8171 3493-0 • Fax+49 8171 3493-140
63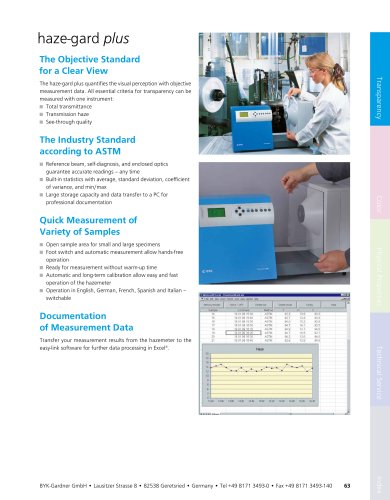 P. 2

Training for haze-gard plus BYK-Gardner offers you more than just an instrument. We assist you in the operation of the haze-gard plus and understanding your...

P. 3

Exact positioning of films in the hazemeter with a holder guided in a precision Liquids are best measured using cuvettes and the cuvette table track...
Text version
All BYK Gardner USA catalogues and technical brochures
Archived catalogues
micro-gloss 45° / 75°

2 Pages