Speed Weaver II -
4 Pages
Powerful Solutions For Welding And Cutting Automation.
Make Precision Weave Welds
Quickly, Easily and Economically!
SPEED WEAVER II
The Speed Weaver II is a compact, precision, all-position
machine, designed for maximum versatility in oscillation. Its
solid-state controls with graduated dials provide adjustable
and readily repeatable control of critical weld parameters.
BUG-1916 DC SPEED WEAVING KIT (120/50-60/1)
Includes:
1 BUG-0343

1 BUG-5300
1 BUG-5195
1 BUG-2975
1 ARR-1080
1 ARR-1085
5 ARM-2325
BUG-O DC-IV
1.5-30 ipm (38-750 mm/min)
SPEED WEAVER II
Weaver Swivel Mount
Cable Mounting Assembly
H.D. Rigid Rail 93-1/2" (2.37 m)
H.D. Rigid Rail 46-1/2" (1.18 m)
Magnet Bar, Swivel w/Release
BUG-1917 DC SPEED WEAVING KIT (240/50-60/1)
BUG-1918 DC SPEED WEAVING KIT (42/50-60/1)
3 Year
Warranty
Made in USA
The Speed Weaver II is designed to be a Stand Alone Linear Weaver that can be used for multiple
purposes. The Speed Weaver can be mounted directly to a motorized carriage; for example:
BUG-O SYSTEMS model DC-IV, or it can be mounted using the special weaver mount as shown
in this brochure. This unit can also be mounted to any type of Fixture where oscillation is required.
PATENTS WORLDWIDE
Net Weight of Kit:
91 lbs. (41.5 kg)
Shipping Weight of Kit: 101 lbs. (46 kg)
A DIVISION OF WELD TOOLING CORPORATION
A QUALITY PRODUCT FROM BUG-O SYSTEMS • 280 TECHNOLOGY DRIVE • CANONSBURG, PA 15317-9564
USA
ROM 1:16 Litho in U.S.A. LIT- SPWV-BRO-1014
A DIVISION OF WELD TOOLING CORPORATION © Weld Tooling Corp.
280 TECHNOLOGY DRIVE
CANONSBURG, PENNSYLVANIA
15317-9564
PHONE: 412-331-1776 http://www.bugo.com FAX: 412- 331- 0383
USA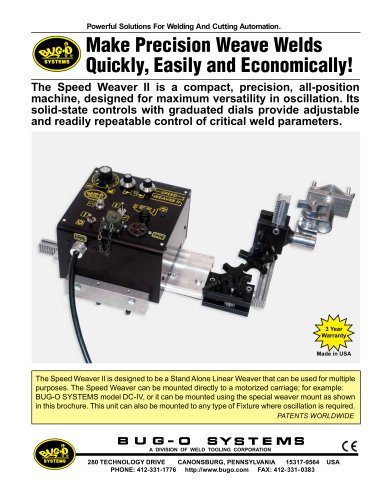 Text version
All BUG-O SYSTEMS catalogues and technical brochures
Archived catalogues
Sprinkler Brochure

6 Pages

Weld Backings

2 Pages