Proportional directional valves CV -

8

/ 32 Pages
301-P-9050025-E-02/05.08
8/32
2.2 Circuits with adjustable control pump
2.2.1 Valve type CL: pump connecting section with pressure relief valve
The pump connecting section comprises a pilot-controlled
pressure relief valve with pilot stage V and main stage H.
The valve does not have recirculation-valve and flow-control
functions. If pressure-regulated (a) or pressure- and delivery-
rate-regulated (load-sensing principle) (b) variable
displacement pumps also have to be protected, a valve of
type CL with primary pressure protection must be fitted.
When pressure-regulated pumps are being used, relief jet
E1 can be replaced by a plug (must be specified in order).
For pumps with load-sensing control, the load signal can be
tapped at port XL. The load at the pump control valve when
the main spool is in neutral position can be relieved at the
pump end (E2) or the valve end (E1) (must be specified in
order).
Remark: To enable us to set up the valve, we require
Äp of the pump regulator.
Example of circuit with valve type CL
Pump connecting section Proportional directional control valve section
E2
(a) (b)
XL
T P L A B
H
V
E1
aX bY
T
P
T
P
A B
Assembly plate
(example)
Example with hydraulic actuation (e.g. via control pressure sensor)
The control pressure differential required for adjusting the main control spool is generated by an external hydraulic control
unit and fed via ports aX and bY to the directional control valve.
For a functional description and characteristics, see section 3.2, p. 10.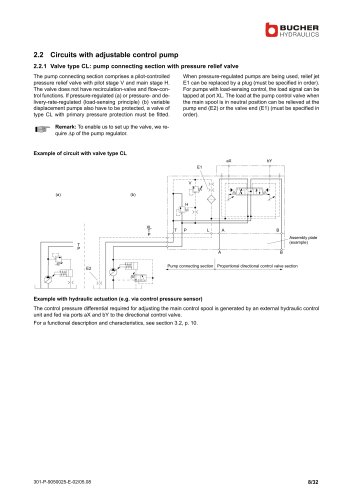 Text version
All BUCHER Hydraulics catalogues and technical brochures
Archived catalogues