Motor Control Products -

2

/ 14 Pages
Motor Control Products
"Suitable as Motor Disconnects"
Safety is our primary concern
Bryant motor controllers are "suitable as motor disconnects," which means that
every motor controller can also be used as a motor disconnect. From a safety
perspective, this means a motor load can now be isolated and locked-out in
one convenient location. By utilizing Bryant's compact motor controllers and
disconnects, you benefit through the convenience of one device fulfilling two
needs. Bryant offers flexibility, strict compliance to UL standards and the highest
quality for greater productivity and safety.
All Bryant controllers can be used as disconnects
In order to understand the benefits of the Bryant design, it is important to
understand the difference between a motor controller and a motor disconnect.
A motor controller is simply used to activate a motor load "ON" or "OFF" and
perform this function thousands of times. A motor disconnect, however, is
designed and tested to withstand motor overloads and high short-circuit
fault currents while maintaining the ability to disconnect the motor for service
or maintenance.
According to the 2008 National Electric Code (NEC®) article 430.102, all motor
controllers must have a disconnecting means located within the line of sight of
the controller. Because the NEC® recognizes that a controller and disconnect
can be the same unit (article 430.109), Bryant has taken the opportunity to
design a compact controller that will also meet the rigorous demands of a motor
disconnect. Bryant's controllers are listed as "Suitable as Motor Disconnect"
under UL Standard 508 – Industrial Control Equipment – qualifying them to
perform both operations in one compact package.
Bryant provides the products you need, with the quality you expect
Exceeding quality and performance expectations is one of the things Bryant
does best. Our line of controllers/disconnects is certainly no exception. Patented
technology has been crafted into a compact, efficient design which is available
in a variety of NEMA enclosure types or as a component switch giving one the
options needed to meet specific application requirements.
G
2
NEC® is a registered trademark of the National Fire Protection Association (NFPA).
www.bryant-electric.com
Specifications are subject to change without notice.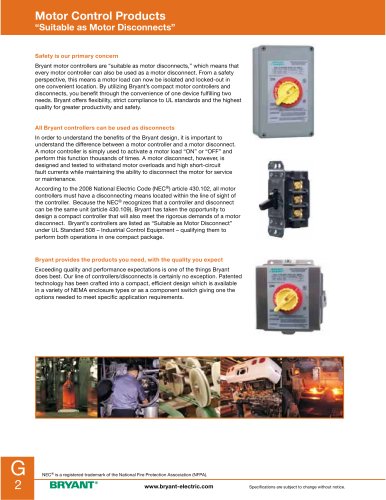 Text version
All Bryant Electric catalogues and technical brochures