Booth:

Bruker Daltonics Inc
Group: Bruker Optics
MALDI Biotyper -
12 Pages
Technical Specifications
Dimensions & Operating Parameters
LxWxH:
Weight:
Noise:
Temp Range:
Operating Humidity:
510 x 680 x 1093mm [20.1" x 26.8" x 43"]
84kg (185 lb) net weight
<30 dB under normal operating conditions
10-30°C (50-86°F)
15-85% non-condensing @ 30°C
Instrument: Microflex LT
■ Nitrogen Laser with 60Hz
repetition rate
■ Full Spectrum Resolution (FSR) with
broadband focusing mode (PAN™)
■ Smart Spectra Acquisition™
■ Perpetual Ion Source™ with IR-laser
self-cleaning functionality
■ Flash Detector™
■ Whispermode™
■ Oil-free membrane pre-vacuum pump
and turbo pump
Manufactured under all cGMP
and QSR regulations
Microbial Identification
Applications:
■ Gram +/- Bacteria, Yeast, Fungi,
Filamentous Fungi, Mycobacteria,
Direct from Blood Culture
Computer, Software & Database:
■ Windows XP operating system
with Quad-Core CPU 2.66 GHz,
Laser printer and Remote Service Capability
via 128-bit SSL
■ MALDI Biotyper Database
■ MALDI Biotyper Client Server
Optional System Upgrades
and Accessories:
■ IVD MALDI Biotyper Software according to
the European Union IVD Directive 98/79/EC
■ Sepsityper Kit for processing samples
directly from Blood Cultures
Sample Targets:
■ Reusable Polished Stainless Steel
Targets: 48 & 96 position with and
without barcode
Disposable 48 position Biotargets with
individual barcode
■ 24 and 96 position BigAnchorChip™ Targets
For research use only. Not for use in diagnostic procedures.
Frank Laukien, President & CEO
Bruker Corporation
"Bruker is a pioneer and leader in providing
mass spectrometry systems for the clinical
laboratory. Bruker optimizes and enhances its
systems to bring the analytical power and utility
of sophisticated, high performance instruments
to bear on improving the capabilities, time to
result, and data quality in clinical laboratories.
Bruker systems are not just leading
technology, they can be the pathway to
delivering the answers needed to manage and
treat serious health issues around the world."
www.bdal.com
Bruker Daltonik GmbH
Bremen ■ Germany
Phone +49 (421) 2205-0
Fax +49 (421) 2205-103
sales@bdal.de
Bruker Daltonics Inc.
Billerica, MA ■ USA
Phone +1 (978) 663-3660
Fax +1 (978) 667-5993
ms-sales@bdal.com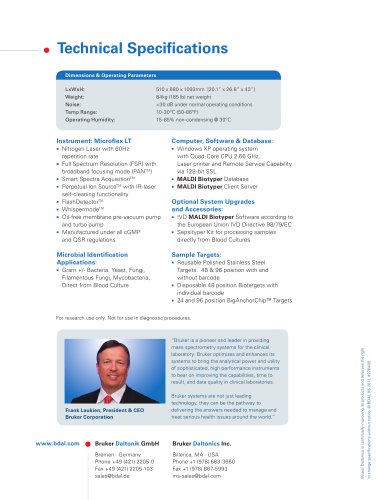 P. 7

...With A Powerful & Flexible Data System Architecture MBT Client Server Architecture       AID  Internet, connection via...

P. 8

An Open Microbiology Platform and Database An Open and Comprehensive Database MALDI Biotyper integrates a ready to use reference library...

P. 9

Rigorous and Sophisticated Data Analysis Assures Accuracy Analyzing and Displaying Results Sample data can be displayed against different...

P. 10

The Best Technology fromThe Market Leader in MALDI-TOFBruker's FLEX™Series ofMALDI-TOF InstrumentsThe MALDI Biotyper is based on thewell proven,...

P. 11

Size Doesn't Equal PerformanceFull SpectrumResolutionOverall System and Technology Performance for Clinical MicrobiologyPatented, intelligentpulsed...
Text version
All Bruker Daltonics Inc catalogues and technical brochures
Archived catalogues
Brochure MetaboliteTools 1.1

8 Pages

Brochure ProfileAnalysis

4 Pages