BORIDE Engineered Abrasives Product Catalog -

46

/ 80 Pages
Polishing Equipment
NSK Products
Ultra-precision electrically / pneumatically
driven polishing tools including drilling,
polishing, grinding, engraving and deburring
spindles, as well as ultrasonic polishing and
cutting equipment. Air, electric and air turbine
spindles and motors are also available for
small diameter milling, drilling, slitting,
chamfering and grinding applications.
Rotus Standard Set
__cv;--AL-0306 )
Item R011149
This model incorporates the top seller being used in many
applications throughout the world. As well as providing an
excellent balance of speed, torque, size and weight, it is
capable of dealing with rough or precise work. 30,000 RPM.
Includes: Air Grinder, Air Line Kit, Foot Control, Hose for
Piping, Lubricating Oil and Pin Wrenches.
Emax EVOIution Control Unit
Item 8224
Compact, functional and easily portable design. Digital
display enhances safety and efficiency. Speed Control
Volume with Flash Load Indicator. Memory Speed Function
FiXpeed®, allowing independent foot switch operation. Power
Source: AC120V, 50-60Hz . Power Consumption: 30W
Weight: 5 lb. 1.13 oz., Dimensions: W5.12" x D10"x H3.82"
Includes: Handpiece Holder, Handpiece Stand, Power
Supply Cord.
Emax EVOIution Motor ENK-410S
Item 08086
High-speed, lightweight, small diameter, high torque.
Compact general-use type motor perfect for precision
work. Speed: 1,000-40,000 RPM, 4.5' Straight Cord.
Emax EVOIution Torque Type Motor ENK-250T
Item 08087
Excellent combination of high speed and high torque.
Perfect for applications requiring large burs.
Speed: 1,000-25,000 RPM, 4.5' Straight Cord.
BORIDE Engineered Abrasives • 2615 Aero Park Drive • Traverse City, Ml 49686-9101 USA
Engineered Abrasives www.borideabrasives.com • ph. 231.929.2121 • tf. 800.662.0336 • fx. 800.662.0298
41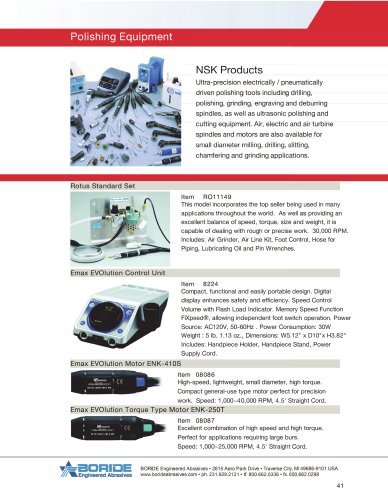 Text version
All BORIDE catalogues and technical brochures
Archived catalogues