Bison gear general catalog -
100 Pages
480 Series Parallel Shaft DC
UP TO 1112 IN-LBS CONTINUOUS
DC PARALLEL
SHAFT
GEARMOTORS
Designed to replace motor-speed reducer combinations,
Series 480 parallel shaft gearmotors are more economical
and occupy less space.
Specifications
Gearhead
Motor
Additional Information
Gearing:
AGMA class 9 heat treated steel
1st-stage helical, balance spur steel
Housing: Precision machined die cast
aluminum
Lubrication: Lifetime oil bath, sealed and
gasketed
Bearings: Needle and thrust ball, ball bearing
outboard
Shafts:
Hardened steel
Mounting: Base, any angle
Finish:
Gloss black powder coat
Motor Type: Permanent magnet
Speed:
Variable with appropriate
control (1.37 form factor max)
Rotation: Reversible
Bearings:
Ball
Insulation: Class B
Enclosures: 1/4 HP TENV
1/2 HP TEFC
Current drawings and stock status
available at www.bisongear.com
ISIS - Products available off-shelf
SNS - Min. order quantity and lead time
483 Series PMDC 90V
Part Number
011-483-4197
011-483-4131
011-483-4087
011-483-4041
011-483-4028
011-483-4018
011-483-4012
011-483-2087
011-483-2058
011-483-2041
011-483-2028
011-483-2018
011-483-2012
Speed 90V RPM
9
14
20
43
63
91
148
20
34
40
60
90
144
Torque (in-lbs)
1087**
960**
727
353
238
152
101
1112**
822
664
464
305
202
Input HP
1/4
1/4
1/4
1/4
1/4
1/4
1/4
1/2
1/2
1/2
1/2
1/2
1/2
Gear Ratio
195.9
130.8
86.5
41.1
27.8
19.3
11.8
86.5
50.3
41.1
27.8
19.3
11.8
Stages
3
3
3
3
3
2
2
3
3
3
3
2
2
OHL*
800
797
667
716
636
571
491
667
682
716
636
571
491
Amps
2.00
2.60
2.70
2.70
2.70
2.70
2.70
4.2
5.0
5.0
5.0
5.0
5.0
Shipping Wt.
33.5
33.5
33.5
33.5
33.5
33.5
33.5
27.25
27.25
27.25
27.25
27.25
27.25
Brush
E
E
E
E
E
E
E
E
E
E
E
E
E
* Maximum overhung load on center of output shaft. ** Output torque is gear limited.
483 1/4 HP
7.31
12.94
1.0 DIA
(4) BOSSES
4.69
3/16 SQ. KEY
1.13 LONG
0.75 DIA
6.63
MAX
5.63 DIA
3.0
2.50
3.50
1.50
1.50
2.75
7/16 DIA (4) HOLES
7.13
8.13
24
Gear & Engineering Corp.
Want to know more? www.bisongear.com
•
1-800-AT-BISON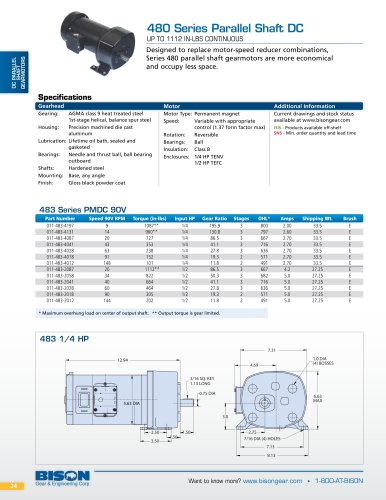 P. 19

336 Series Parallel Shaft DCUP TO 300 IN-LBS CONTINUOUSDC PARALLELSHAFTGEARMOTORSFor up to 300 in-lbs., our 336 Series offers a wider rangeof speed and...

P. 20

348 Series Parallel Shaft DCDC PARALLELSHAFTGEARMOTORSUP TO 350 IN-LBS CONTINUOUSFor up to 350 in-lbs., our 348 Series offers more standardvoltages, mountings...

P. 21

DC PARALLELSHAFTGEARMOTORS348 Series Parallel Shaft DC348 DC 12V4.0810.27OPTIONALJ-BOX2.94(4) 0.25-28UNF-2B3.632.003/16 SQ. X1" LONG KEY.402.25.915.126.023.63.75...

P. 22

VWDIR84 DC12V & 90V PMDC TENV DESIGNDC PARALLELSHAFTGEARMOTORSOur VWDIR 84 offers up to 500 in-lbs of torque.SpecificationsGearheadMotorGearing: Phenolic...

P. 23

650 Series Parallel Shaft DCUP TO 710 IN-LBS CONTINUOUSDC PARALLELSHAFTGEARMOTORSThe 650 Series offers strength and versatility withtorque up to 710 in-lbs...

P. 25

DC PARALLELSHAFTGEARMOTORSCreated Equal.CERTIFIED QUAL9001:2008SYSTEM483 1/2 HPMANAGEMITYJust because many gearmotors may appear similar from the outside...

P. 26

AC PARALLELSHAFTGEARMOTORSAC Parallel ShaftGearmotors26Gear & Engineering Corp.Want to know more? www.bisongear.com•1-800-AT-BISON

P. 27

AC PARALLELSHAFTGEARMOTORSWant to know more? www.bisongear.com•1-800-AT-BISONGear & Engineering Corp.27

P. 28

SANIMotor™IP69K RATED INVERTER DUTY STAINLESS STEEL GEARMOTORSFor use in harsh environments and high pressure, high temperaturewashdown environments.**...

P. 29

Product Features & BenefitsUL Recognized Component• • • • • Stator is encapsulated with a thermally conductive 2-part...
Text version
All BISON catalogues and technical brochures
Archived catalogues