Booth:
Bentley Systems Europe B.V.

STAAD Foundation -
2 Pages
WWW. BENTLEY .COM
STAAD . FOUNDATION
COMPREHENSIVE FOUNDATION DESIGN
STAAD.foundation is a standalone or integrated foundation solution for simple and complex foundation problems. STAAD.foundation integrates all common footing designs including spread (isolated) footings, strip (combined) footings, pile cap arrangement and design, octagonal footings and mat foundations.
Currently, STAAD.foundation supports three concrete codes: ACI-2005, BS 8110 and IS-
456-2000. These foundations can be on soil or on piles. Load types can be predetermined or user-defined with a customizable automatic load combination generator. Wind and zip code based seismic loads can also be generated through a simple wizard-based input.STAAD.foundation can calculate footing plan dimension and thickness automatically. It designs for one way shear, punching shear, pile punching shear, and corner pile check. It calcu-
lates reinforcement along both axes (X and Z) and both faces (top and bottom).With its powerful 3D graphics, engineers can quickly identify and investigate displaced shapes, stress contour, soil pressure and rein-
forcement layout. >
Unique, Object based modeling for complex foundations
No matter how complex the foundation is, STAAD.foundation can design it with its object based modeling environment. Whether it is rectangular, complex polygonal, circular or includes openings , STAAD.foundation has the tools to model, analyze, design and produce drawings. In addition, both regular and irregular column lines can be modeled. The sophisticated mesh generation allows for the creation of holes (cut-outs) and inner regions with different thicknesses for pedestals.Boundary/property line loads can be modeled with powerful physical loading objects such as circular load, quadrilateral load, line load and point load. >
Cutlines can be specified at any location along mat foundations
Integration with STAAD.Pro
STAAD.foundation is bi-directionally integrated with STAAD.Pro (a leading product in structural analysis and design). Any analyzed STAAD.Pro file can be imported into STAAD.foundation with all column positions (and/or plates), sup-
port reactions and loads brought in automati-
cally. Changes made to the column positions or loads can be re-imported for further evaluation of the substructure. >
Detailed drawings and Thorough Output including Calculations
STAAD.foundation generates detailed drawings which includes both plan and sectional draw-
ings with rebar marks.The drawings include all the footings designed in the project to scale with grid lines and grid marks which help iden-
tify interference. Drawings can be exported to DXF or DWG format to produce site drawings. Thorough output and detailed calculations are also provided listing all relevant clauses and equations. >
Finite Element Analysis (FEM) for accurate and economical designs
To address specific needs of the plant industry,STAAD.foundation includes modules for vertical
vessel foundations (octagonal shape) and heat
exchanger foundations STAAD.foundation has a very unique and in-novative technique for mat design that takes full advantage of 3D FEM analysis, which can provide for an accurate and economical design. It designs the slab at thousands of discrete points taking into consideration an unlimited number of load cases. This unique approach to creating user-defined reinforcing zones helps the user to visualize and optimize the reinforce-
ment requirement. The program can automati-cally detect upliftand redistribute the force. A design along any user-defined line in the slab can be performed along with checks for punch-
ing shear for all column positions. Visit us on the Web for more information about Bentley solutions and services. www.bentley.com >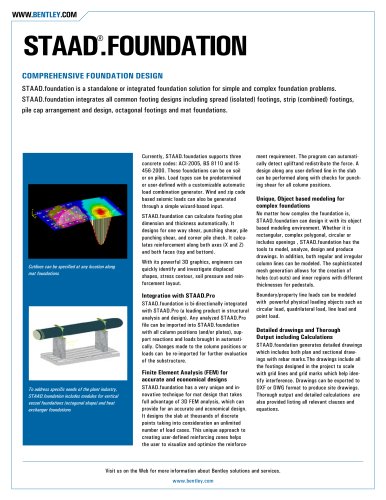 Text version
All Bentley Systems Europe B.V. catalogues and technical brochures
Archived catalogues