Bentley PowerDraft -
2 Pages
I Bentley PowerDraft
The
Generation
The premier 2D production drafting solution
Bentley® PowerDraft™ offers project teams fast, efficient deployment and implementation of a powerful 2D design and production drafting solution. An intuitive interface for creating, editing, and manipulating industry-recognized file formats, complete integration with all Bentley solutions and a variety of licensing options makes Bentley PowerDraft the perfect complement to existing MicroStation® workflows.
Data Interoperability
Native support for DGN and DWG files allows you to focus on creating and using your design data, rather than on deliverable file formats, data exchange and file translations.
Change Management
Bentley PowerDraft incorporates a robust design history capability to track the evolution of each DGN file—so you can record, review, restore and interrogate all of your design iterations. When combined with digital rights and digital signatures, you can monitor progress and add security and accountability to your projects.
Workflow Support
Bentley PowerDraft integrates seamlessly with your current organizational workflow. Easy-to-use configuration options let you leverage your current workspace settings, directory locations and resource files by creating, customizing and deploying existing and new project environments.
Extensibility
Bentley PowerDraft is offered with integrated application portfolios that serve multiple industries. Flexible programming support makes Bentley PowerDraft highly adaptable to your business needs and requirements.
Bentley PowerDraft supports for industry-standard font resources.
Achieve true scale referencing of legacy data in raster or vector format.
Vsit us on the Wb for more information about Bentley solutions and services. www.bentley.com
Bentley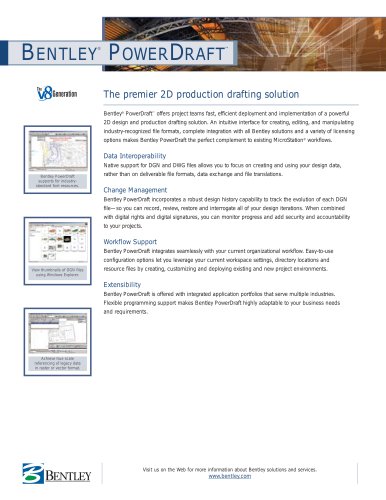 Text version
All Bentley Systems Europe B.V. catalogues and technical brochures
Archived catalogues