Booth:
Bentley Systems Europe B.V.

Bentley OpenPlant Isometrics Manager -
2 Pages
Product Data Sheet
Bentley® OpenPlant Isometrics Manager V8i
Generate Intelligent Isometrics in a Neutral Format
Powerful Functionality for
Isometrics Production
By controlling isometric production through project-based
rules, OpenPlant Isometrics Manager V8i allows isometrics to
now be automatically produced by document control or other
supporting project personnel, freeing up piping designers to
focus on design activities. This powerful new functionality
is valuable to not only designers and constructors, but also
owner-operators. The latter can use it to generate required
legal documents from the as-built 3D model, regardless of
how the model is managed.
Automatic Version Control and
Global Distribution
OpenPlant Isometrics Manager V8i is integrated with
ProjectWise® V8i, allowing finalized isometrics to be posted
directly into the document repository. If a previous version
exists, ProjectWise V8i will automatically create a new
version, leaving the old version intact for possible future
review. Team members, regardless of location, can access
the most current versions of design documents.
Centralized Isometrics Production
OpenPlant Isometrics Manager V8i is a stand-alone application
that allows anyone with access to OpenPlant ModelServer V8i
to generate isometrics once the drawings are ready. Thanks to
its simplified interface, isometrics can be produced by document
control or other supporting personnel, freeing up more
experienced designers for detailed design work.
Real-Time, Automatic Isometric Production
from Multiple Systems
OpenPlant Isometrics Manager V8i permits the production of
isometrics from diverse sources, such as PDS, AutoPLANT®,
or PlantSpace®. This allows designers the freedom to work in
the design application of their choice, while lowering the cost
of having to maintain both expensive personnel and design
seats in order to produce quality isometrics.
Intelligent Isometrics
OpenPlant Isometrics Manager V8i automatically creates an
intelligent 3D file, which includes the graphics and associated
data inside the design file. The designer can view a browser
tree of the components, search for content on the document,
or create new reports and queries based on the content of the
documents. The white space engine in OpenPlant Isometrics
Manager V8i puts labels, dimension, and other text in intelligent
locations on the drawing for legibility.
Isometric Management
Isometrics can be produced based on a design state from
OpenPlant ModelServer such as "Issued for Construction."
Rules can be defined to control what type of isometric to
produce and, more importantly, whether an isometric can be
created if the components are not at a predetermined design
state. Time spent checking and reviewing isometrics is now
focused on the proper documents where the status is known.
Multiple Styles
OpenPlant Isometrics Manager V8i provides for the creation
of many isometric styles for specific purposes in the project,
each with their own set of rules for design status and component
types. The resulting isometric drawings can be placed
into their own folder within ProjectWise V8i for versioning
and distribution to the global project team. Delivered styles
include as-built, check, IFC, stress, and tracing. Additional
user-defined styles can be created to suit individual requirements.
ProjectWise V8i provides for remote access, allowing
users such as fabricators to see the most current information.
Piping isometrics are among the most important deliverables from plant designs. Bentley
OpenPlant Isometrics Manager V8i is the first software to extract intelligent isometric information
from any iRING compatible 3D model, and do so automatically and in real time. These
uniquely intelligent isometrics are both searchable and reportable for use in materials management
and procurement, fabrication, construction, and operations.
Automatic version control and global
distribution
Simple interface to control isometric
drawing creation
Using a direct connection to ProjectWise
provides integral document management
through OpenPlant Isometrics Manager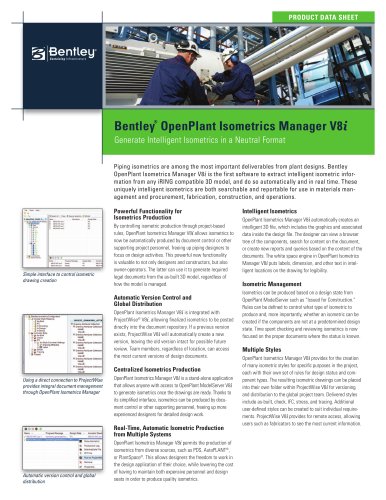 P. 2

© 2010 Bentley Systems, Incorporated. Bentley, the "B" Bentley logo, AutoPLANT, SELECT, MicroStation, PlantSpace, and ProjectWise are...
Text version
All Bentley Systems Europe B.V. catalogues and technical brochures
Archived catalogues