Bentley CivilStorm -
2 Pages
B ENTLEY C IVIL S TORM
ή
Comprehensive stormwater modeling and analysis
CivilStorm >
is a fully-dynamic, multi-platform, hydraulic modeling solution developed for the analysis of complex stormwater systems. Engineers can analyze these systems using built-in hydraulic and hydrology tools and a variety of wet-weather calibration methods. From stormwater master plan development, to water quality studies, CivilStorm provides an easy-to-use environment for engineers to analyze, design, and operate stormwater systems. >
One solution for all stormwater system modeling needs
Map and model your systems in a scaled environment whether you work in the stand-alone, MicroSta-tion, or AutoCAD interface. CivilStorm performs comprehensive analysis of all aspects of your system: rainfall, runoff, inlet capture and bypass, gravity and pressure piping, ponds, outlet structures, open channels, culverts and more.Engineers can analyze pressure and free surface flow conditions for networks of channels and closed conduits; model complex pond outlets for a variety of tailwater conditions; and use weirs, orifices, culverts, risers, and inlet boxes in their design, all within a single product. >
Two dynamic engines
CivilStorm includes two dynamic engines that account for storage effects within structures and quantify overflows should they occur. The flexibility of choosing between the EPA-SWMM engine as well as an extremely stable implicit engine to solve the complete set of wave components behind the Saint Venant equations, gives added comfort to those modelers that are accustomed to modeling with SWMM and familiar with its capabilities and limitations. On the other hand, the implicit engine can deliver numerically stable results for any model size, without users having to trick the model with unrealistic physical properties and calculation intervals.Engineers can also use the SWMM water quality features to comply with NPDES water quality regulations. >
CivilStorm models every aspect of your stormwater conveyance system.
Three engineering platforms. One product. One model file.
Out of the box, CivilStorm users can work within stand-alone and MicroStation >
ή platforms, with available AutoCAD integration to model within their favorite CAD environment. Regardless of the platform used, CivilStorm maintains a single set of modeling files for true interoperability across platforms.The stand-alone interface offers unparalleled versatility with easy-to-use model layout tools, support for multiple background layers, conversion utilities from CAD, GIS, and databases, and unlimited undo and redo.The MicroStation interface, included at no additional cost with all CivilStorm versions, provides a geospatial and engineering design environment with unrivaled visualization and publishing tools. AutoCAD users can also add AutoCAD integration features to build and lay out models with engineering precision within an environment they are already comfortable with. >
Organize an unlimited number of physical, design, hydrology, network topology, and operational scenarios with a single CivilStorm file.
Streamlined model-building
Engineers can leverage geospatial data, CAD drawings, databases, and spreadsheets to jumpstart the model building process. CivilStorm provides synchronized database connections, geospatial links, and advanced model-
building modules that connect with virtually any digital data format. In addition, modelers can import SWMM files as well as StormCAD files into CivilStorm.CivilStorm also provides drawing and connectivity review tools to guarantee a hydraulically coherent model. >
Comprehensive scenario management
The Scenario Management Center in CivilStorm gives engineers full control to configure, run, evaluate, visualize, and compare an unlimited number of scenarios within a single file. Engineers can easily make decisions by comparing alternative designs or proposed rehabilitation methods for a variety of system conditions (including pre- and post- development). >
Built-in stormwater hydrology
Engineers can load models with wet weather runoff flows derived from precipitation using CivilStorms built-in rainfall distributions, or user-defined rainfall events. Runoff flows are modeled using a choice of hydrograph methods, including RTK, SCS, Modified Rational, EPA-SWMM, or user-defined generic unit hydrographs. >
For more information visit www.bentley.com/CivilStorm or call 1-800-BENTLEY size="-1">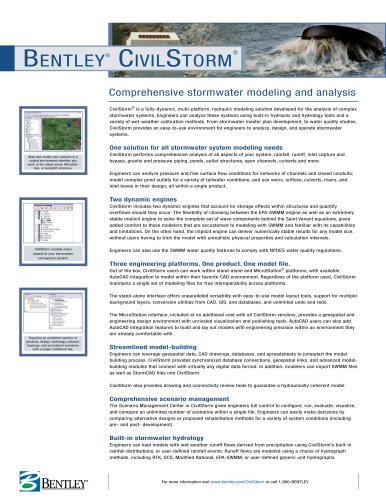 P. 2

CivilStorm At-A-Glance ■ Implicit dynamic engine included ■ Explicit dynamic engine included (EPA-SWMM) ■ Evaporation...
Text version
All Bentley Systems Europe B.V. catalogues and technical brochures
Archived catalogues