Booth:
Bentley Systems Europe B.V.

Bentley AutoPipe Specsheet -
2 Pages
B
ENTLEY
ή
A
UTO
PIPE
The most productive tool for pipe stress analysis
Bentley >
AutoPIPE >
ή is a native Windows program for calculating piping code stresses, loads and deflectionsunder both static and dynamic loading conditions. AutoPIPE analyzes systems of any complexity, with
special features for buried pipeline analysis, wave loading, water or steam hammer, FRP/GRP pipe and
built-in pipe/structure interaction.AutoPIPE combines object-based graphics technology with dynamic input & result spreadsheets andadvanced analytical capabilities not found in other programs to provide a truly unique tool for pipe stress
analysis and design. >
Color-coded pipe propertiesallow you to quickly identifyand investigate critical areas.
Unique, Object-based Graphical User Interface
The object-based graphical user interface makes creation and modification of the pipe stress model easy.
Point and click on the graphical model to insert, modify or delete pipe supports, loads or components. After
each operation, the model display is automatically updated for instant visual feedback. Using AutoPIPEs
graphical select options, you can insert, delete or modify components, supports, pipe properties, temper-
atures/pressures, or other parameters across an entire range of points with one command. Graphical
selection of ranges is also used for cut, copy and paste operations. Check, sort or make global changes
to the input data quickly using the interactive input grid spreadsheets. AutoPIPE allows up to 99 undo/redo
steps to recover from mistakes, perform ґWhat-If analysis or to iterate quickly through design scenarios. >
Structural framing to modelpipe supports.
Advanced Analysis Features for Varied Piping Environments
AutoPIPE provides unique capabilities for underground, offshore FPSO platform and subsea pipeline analysis,
dynamic loadings, nonlinear restraints and orthotropic piping analysis. Other advanced AutoPIPE capabilities
include built in wave loading, buried pipeline analysis, pipe/structure interaction, calculation of local stresses,
time history dynamic analysis, fluid transient and relief valve utilities, support gaps and friction, FRP/GRP
pipe analysis, jacketed piping and 29 piping codes. >
Graphical Review of Analysis Results
After analyzing a system, you can click on the graphical model to instantly view stresses, deflections,
forces and moments. Color-coded results and pop-up windows enable the engineer to quickly identify
and investigate critical areas without having to review a voluminous amount of batch output data. Up to
500 load combinations can be viewed with the powerful on-screen results grid which provides interactive
filtering, sorting and printing of maximum result values. >
AutoPIPE features graphicselection of model to cut, copy or paste.
Interface with Plant Design CAD Systems
Import 3D plant design CAD models from Bentley >
Ү AutoPLANT >
, Bentley >
ή PlantSpace >
, Intergraph PDSor Aveva PDMS into AutoPIPE to save hundreds of manhours and ensure accurate pipe stress models. >
Quality Assurance
AutoPIPE's rigorous quality assurance program has passed numerous independent on-site audits to
10CFR50 App. B, ASME NQA-1, and ANSI N45.2 standards, making AutoPIPE one of the few PC-based
pipe stress programs approved for use in nuclear safety applications. >
Visit us on the Web for more information about Bentley solutions and services. www .bentley .com >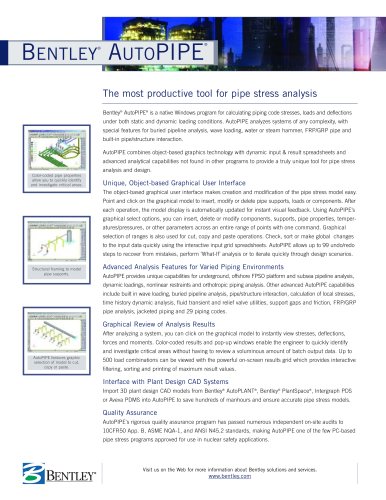 P. 2

B ENTLEY A UTO PIPE A T -A-G LANCE Modeling ■ > British Standard BS 806, BS 7159 (GRP piping code) ■ ■ > OpenGL...
Text version
All Bentley Systems Europe B.V. catalogues and technical brochures
Archived catalogues