1/12 HP through 2 HP B&G Motor Parts -

16

/ 32 Pages
PARTS LIST CP-25A-PL (CONTINUED) B&G Motors
111040
1/4HP, 115-60-1, 3.0 AMP, 1725 Motor for a Booster Pump
ITEM

MFG. DATE

MFG. DATE

NO.

DESCRIPTION

1/91 - CURRENT

4/73 - 12/90

MOTOR ID NUMBER

M10532

M95171

Power Pack

111040

111040

Motor Bracket

P66070

P66080

Conduit Box Cover

P01870

P01030

1

Capacitor

M76042

NONE

2

End Plate (Shaft End)

M49301

M49301

3

End Plate (Lead End)

M49302

M49185

7

Overload Protector

**M74799

M75717

14

Sleeve Bearing (2)

M23250

M23250

9

Centrifugal Switch Assembly

NONE

118264

16

Wicking (2)

M72131

M72131

6

Motor Mount Set

118228

118228

8

Switch Plate Assembly

NONE

118262

12

Resilient Washer - Buna N (2)

M25320

M25320

11

Cupped Washer - Steel (2)

M26010

M26010

13

Washer - Phenolic (2)

M26040

M26040

18

Shim Washer - Mylar (5)

M26070

M26070

15

Cover & Tube

M72555

M72555

19

Oil Retainer (Shaft End)

M23280

M23280

5

Oil Retainer (Lead End)

M23130

M23130
* * - Overload protector is wound in stator windings. - Factory recommended spare parts.
Use the list below for cross-reference purposes only. Consult factory if replacement parts are needed for these obsolete motors.
111040 replaces: MBGOOA-2606B
MOT102-6
MOT309-6
MOT442-6 M95172
NOTE: Refer to page 8 for exploded view of 6" motor.
16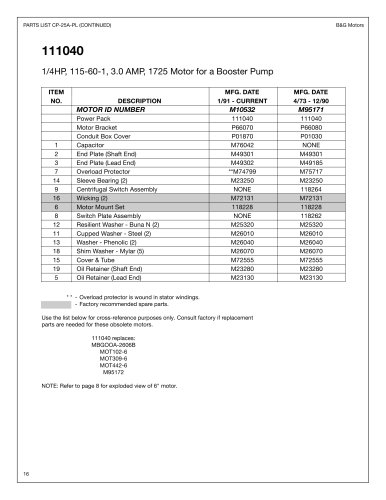 Text version
All Bell & Gossett Domestic Pump catalogues and technical brochures
Archived catalogues