Booth:
Badotherm Group
M5A - remotely mounted five valve manifold -
2 Pages
technical specification model
moc inlet outlet vent
AISI316 1/2" NPT-f 1/2" NPT-f 2 x 1/4"NPT-f (plugged)
venting bonnet equalizing bonnetisolating bonnet stem
right and left side front side 25 DEG right and HS
left side
packing pressure temperature bracket holes
PTFE 413 (6000) bar (psi) 240°C provided
design information
.. self aligning metal seats flow diagram
.. compact design
.. non-rotating spindle tip
.. metal seal between body and bonnet
.. bonnet locking pins
.. safety back seating T-bar
.. full traceability of all materials
.. 100% pressure tested
dimensional drawings
For technical data sheets and dimensional drawings please refer to our website www.badotherm.com
11/01/2008 rev 1
even
remotely mounted five valve instrument manifold
Badotherm model M5A is a five valve manifold that can be used for the isolation of
differential pressure instruments. The M5A manifold has two female connections at
the bottom side and two female connections at the top side. All Badotherm manifolds
are available with a variety of seat and seal materials and are fully tested under
pressure in the factory. This valve is available with a standard HS stem with a coni-
M5A cal tip to ensure perfect alignment for a bubble tight shut-off
4.1.2.
manifolds and valves
front side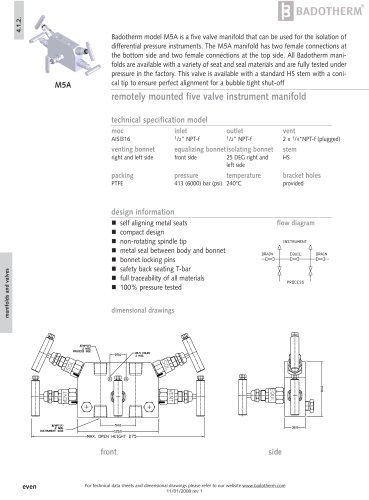 P. 2

M5A - additional informationoptions and special execution at extra costmoc carbon steel, AISI316L, AISI304, Monel, Hastelloyinlet other sizes on requestoutlet...
Text version
All Badotherm Group catalogues and technical brochures
Archived catalogues
commercial catalogue 2006/07

324 Pages