Booth:

AUMA
Group: AUMA


Electric multi-turn actuators -
28 Pages
Interfaces
Valve attachment
The valve attachment is according to
EN ISO 5210 or DIN 3210.
Flange size
Size SAI/SARI
6
25
50
100
60
Torque max. [Nm]
12
120
250
500
1 000
ISO 5210
Standard
F10
F10
F14
F14
F16
DIN 3210
Option
G0
G0
G1/2
G1/2
G3
Output drive types
Various output drive types according to EN ISO 5210 or DIN 3210 are
available in order to adapt the
multi-turn actuators to the different
types of valves.
Output drive type AF
(ISO 5210/DIN 3210)
Output drive type A
(EN ISO 5210/DIN 3210)
Stem nut for rising and
non-rotating valve stems.
The
mounting
flange
together with the stem nut
and thrust bearings form
one assembly, which is
suitable for accepting
thrust.
20
Output drive types
B1, B2 (ISO 5210) or B
(DIN 3210)
Output drive types
B3 or B4
(ISO 5210) or E (3210)
Output drive for the transmission of torques. Valve
mounting flange and plug
sleeve form a separate
unit. Low radial loads can
be accepted.
Bore with keyway for the
transmission of torques
integrated in the hollow
shaft of the actuator.
Spring loaded stem nut. As
output drive type A, suitable for rising, non-rotating
valve stems. By using special springs it allows a limited axial displacement of
the stem nut to compensate thermal expansion of
the valve stem or to absorb
high dynamic loads when
the valve closes quickly.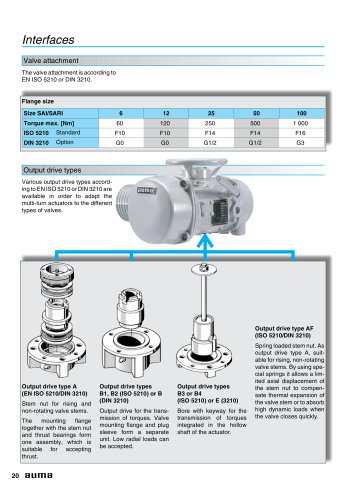 P. 15

Design principle2688Electrical connectionThe connections for motor and controls are either made via terminals orvia a 50-pole AUMA plug/socket connector.If...

P. 16

EquipmentBevel gear for handwheel operationThe bevel gear for handwheel operation has two advantages:■ Reduction gearing reduces themanual forces...

P. 17

EquipmentCombinations with LEN linear thrust unitSAI actuators can be combined withthe LEN linear thrust unit for linearvalve applications.The LEN 12.1...

P. 18

InterfacesElectrical connectionTerminalsIf the use of terminals is stipulated for the electricalconnection, the actuators can be delivered withceramic...

P. 19

Technical data Terminals Technical dataMotor power connectionsProtective earthControl terminalsTerminals max.3150MarkingU1, V1, W1according to VDE Voltage...

P. 21

Service conditionsEnclosure protection IP 68Corrosion protection KI/ColourAs standard, AUMA multi-turn actuators SAI and SARI are supplied inenclosure...

P. 22

QualificationQualification of the multi-turn actuators according to IEEE 382-1978 (Draft)Test procedureSelection of the test samplesVibration tests■...

P. 23

Qualification auma ® Declaration of Incorporation according to EC - Machinery Directive 98/37/EC article 4 paragraph 2 (Annex II B) AUMA...

P. 24

Other information EU Directives Functional tests Machinery Directive According to this directive, AUMA actuators, actuator controls and valve...

P. 25

Operational reliability AUMA SAI and SARI actuators have proved to be reliable for more than 25 years. This is confirmed by the posi- tive...
Text version
All AUMA catalogues and technical brochures
Archived catalogues