DIAM 4000 -
4 Pages
DIAM4000
Single-phase Constant Current Regulator
COMPLIANCE STANDARDS
ICAO Aerodrome design manual, part 5
IEC (61822)
CENELEC (ENV 50231)
STNA (91068 rev.93)
FAA (AC150/5345-10F – L828/L829)
AENA (PPT002 ed4-2004)
APPLICATIONS
DIAM4000 series CCRs are low-cost fully static devices controlled by two
thyristors. They are designed to maintain a constant, pre-displayed and
adjustable output current independently of load or power supply
fluctuations. These devices are specifically designed for airfield lighting on
runways, taxiways or aprons. They meet all international standards.
Electronics, using the latest digital technology, can be controlled and
monitored by the mean of the most popular serial networks with or without
redundancy, as well as the most simple universal multiwire interface.
ADVANTAGES
Flexibility of operation :
The large semigraphic alphanumeric display combined with a menu type
keyboard allows the CCR to be configured without connecting a computer.
Regulation is fully digital, which enables parameters to be simply adapted
in case of particular load or special application. Auto-calibration eliminates
the use of tedious setting, in case of long-time scheduled maintenance.
Emergency and warning messages are clearly displayed, as the current
state of the CCR or all input or output electrical measurements.
Maintenance optimisation :
These regulators show a very simplified architecture both for electronics,
LV part and HV power unit : It has been optimised to keep the number and
variety of spare parts to a minimum, in order to facilitate maintenance.
Software tools allow a fast fault diagnosis and test, without dismantling.
Purchase and life-cycle costs :
NT 60 21052 DIAM4000
16-03-2009
DIAM4000 series constant current regulators represents the best
compromise on the market between high performances, maintenance
services and the most reduced cost, thanks to an optimised design and a
latest state-of-the-art digital electronic technology.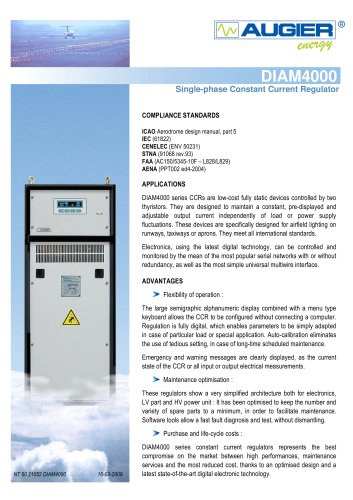 Text version
All Augier catalogues and technical brochures
Archived catalogues