Multi-port Serial Server- SE5016 -
2 Pages
Device Networking Access Multi-Port Serial Server
޾ >
SE5008/SE5016
RoHS-compliant Features
Make Serial Devices Ready to the Network
Ɏ! >
8/16-port Ethernet serial server with RISC 32bits 266MHz CPU
The Multi-port Industrial Serial Server SE5008/SE5016 is a gateway between Ethernet (TCP/IP) and RS-232/RS-422/RS-485 communications. It allows almost any serial device to be connected to a new or existing Ethernet network. By encapsulating serial data and transporting it over Ethernet, SE5008/SE5016 offers full-duplex, bi-directional data transmission transparent between serial port and Ethernet network.
Ɏ! >
19-inch rack-mount metal housing
Ɏ! >
Software selectable RS-232/RS-485/RS-422 with Gas Discharge Tube for Surge protection or photo-coupled isolation RS-422/RS-485
Ɏ! >
Dual 10/100Mbps Ethernet for networking redundancy
Ɏ! >
UDP, TCP Server and Client for Virtual COM mode
Easy to Use
Ɏ! >
Configuration via Serial Console, Telnet, Web Server or Windows-based utilities
Flexible configuration options enable this unit to be setup over Ethernet by Telnet, Web browser, Serial Console, or other Windows utilities. Packed in a rugged metal housing with 19-inch rack-mount and 100~240VAC wide power input range, SE5008/SE5016 is ideal for almost any industrial and manufacturing automation.
Ɏ! >
Linux with GNU C SDK for user application programming
High Performance Programmable Device Server With its powerful computing power and Linux SDK, it could be a high performance programmable controller for time-critical, high-security, multi-function controller such as SCADA, tele- communication, transportation, banking, hospital, etc.
Technologies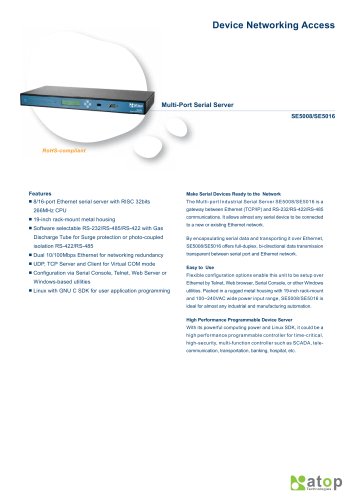 Text version
All Atop Technologies Inc catalogues and technical brochures
Archived catalogues