BD 100 - 3000 -

5

/ 8 Pages
Thanks to their pioneering technology, BD dryers ensure a guaranteed
dewpoint of at least -40°C and the lowest energy consumption for
the highest possible efficiency - saving you time and money throughout
the production process.
4
ZZ PROVEN PEACE OF MIND
Building on Atlas Copco's know-how and years of experience
with regards to compressed air solutions, the BD desiccant dryer
range is tested using the most stringent methods in the industry.
You can rest assured at all times. In order to obtain ISO 9001 and
14001 certification, Atlas Copco thoroughly tests its dryers during
design reviews. As a result of the synergy with the compressor
production facility, Atlas Copco is able to test the entire dryer
range to all flows. To further reduce any type of contamination
within your process and protect your equipment, Atlas Copco
presents a complete range of compressed air filters when needed.
A total quality air solution for every application.
BUILT FOR ENDURANCE
• Designed using state-of-the-art tools and facilities.
• Based on years of extensive research and continuous development.
• Manufactured using the most advanced production line and methods in the industry.
BD 100
BD 150
BD 185
BD250
BD300
BD390
BD520
BD780
BD 1050
BD 1400
BD 1800
BD 2400
BD300
BD 3000
BD 3000
i i-1-1-1-1-1-1-1-1-1-1 i i i-1-1-1-1-1-1-1-1-1 i i i i i i i
Flow(l/s) 0 100 200 300 400 500 600 700 800 900 1000 1100 1200 1300 1400 1500 1600 1700 1800 1900 2000 2100 2200 2300 2400 2500 2600 2700 2800 2900 3000
| External heater
Internal heater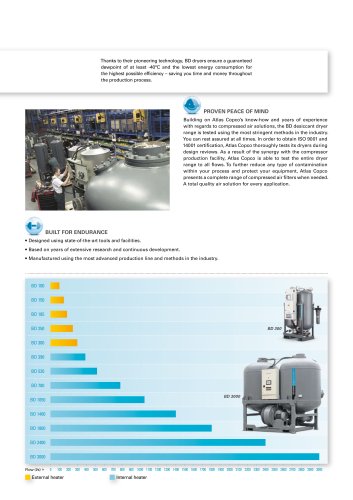 Text version
All Atlas Copco Compressors catalogues and technical brochures