Booth:

ASHCROFT
Group: DRESSER FLOW CONTROL
Temperature Switches - Type 400, B-Series -
16 Pages
YOUR PRESSURE AND TEMPERATURE SWITCH SOURCE
NEW!
ATEXAPPROVALAVAILABLE >
B-SERIES SWITCHES
PRESSURE, DIFFERENTIAL PRESSURE, TEMPERATURE ANDHYDRAULIC
NEW!
5000 & 7500PSI RANGESAVAILABLE >
BULLETIN SW-10
17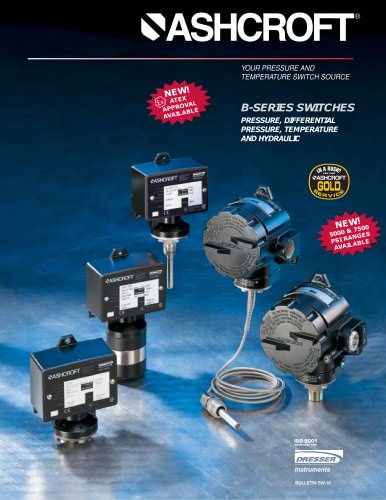 P. 2

B-SERIESPRODUCTINFORMATlON The Dresser Control InstrumentOperation supplies highly reliableAshcroft switches and controls forindustrial and process...

P. 3

RECOMMENDED PRACTICE: All controls should be selected consider-ing the media and ambient operatingconditions. Improper application can bedetrimental to...

P. 4

PRESSURE AND DIFFERENTIAL PRESSURE SWITCHES B-Series pressure, differential pressure and vacuum switches use two different actuators depending...

P. 5

ORDER INFORMATION B-SERIES PRESSURE AND DIFFERENTIAL PRESSURE SWITCH MODEL NUMBER: To specify the exact switch desired, select entries from appropriate...

P. 6

TEMPERATURE SWITCHES B-Series temperature switches feature a SAMA Class II vapor pressure thermal system. This system provides quick, accurate...
Text version
All ASHCROFT catalogues and technical brochures
Archived catalogues