Booth:
APAGEO
APAFOR® 450 RS -
2 Pages
MACHINES DE FORAGE GEOTECHNIQUE
GEOTECHNICAL DRILLING RIG
®
APAFOR 450 RS
MACHINE DE FORAGE COMPACTE POUR LA GEOTECHNIQUE.
COMPACT DRILLING RIG FOR GEOTECHNICAL INVESTIGATION
Machine robuste, montée sur chenillard autotracté pour accès aisé sur sites difficiles.
Robust versatile rig, track mounted for difficult site access.
Très bon rapport poids-puissance
Very attractive power-weight ratio
Forage à la tarière hélicoïdale, en roto-injection
et au marteau fond-de–trou, carottage.
Continuous flight auger, rotary and
Down-the-hole hammer drilling, coring
Totalement autonome avec prédisposition pour
pompe d'injection hydraulique
Fully self-sufficient thanks to its serialinjection pump
Pompe MN
MN pump
Pupitre de commande
Control panel
ZA de Gomberville - 1 rue Salvador Allende - 78114 Magny les Hameaux - FRANCE
Tél : +33 (0)1 30 52 35 42 – Fax : +33 (0)1 30 52 30 28
info@apageo.com – www.apageo.com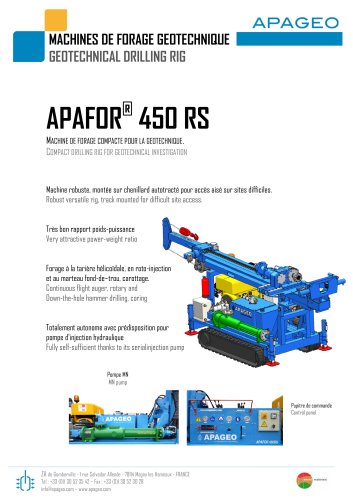 P. 2

MACHINES DE FORAGE GEOTECHNIQUEGEOTECHNICAL DRILLING RIG®APAFOR 450 RSGeneral informationCaractéristiques généralesChâssis mécano-soudé...
Text version
All APAGEO catalogues and technical brochures