Booth:
APAGEO
APAFOR 440 and 450 -
2 Pages
APAFOIf 450 MP
Machine de forage compacte, idale pour les micro-pieux et les reprises en sous-uvre Compact drilling rig, ideal for micro-piling and under pinning
MachinB mont霩e sur cheniliard autotract pour accs ais騩 sur sites difficiles. VersatiJE rig, track mounted for difficult site access.
Tres bon rappnrt pDids-puissancB Very attractive power-weight ratio
Forage alatariere helicoi'dale, en roto-injection et au marteau fond-de-trou
Continuous flight auger, rotary and Down-the-hole hammer drilling
Tete speciale micro-pieux, puissanteetrobustepour des forages a moindre cout
Special rotation head for micro-piling, strong and robust for preboring at lowestcost
Totalement autonome avec predisposition pour pompe d'injection hydraulique
Fully self-sufficient thanks to its serial injection pump fitting
Forage vertical et incline, et inclinaison gauche / droite ± 15° Vertical and inclined drilling, plus left / right inclination ± 15 °
ZA de Gomberville -1 rue Salvador Allende - 78114 Magny les Hameaux - FRANCE Tl : +33 (0)130 52 35 42 - Fax : +33 (0)130 52 30 28 info@apageo.com - www.apageo.com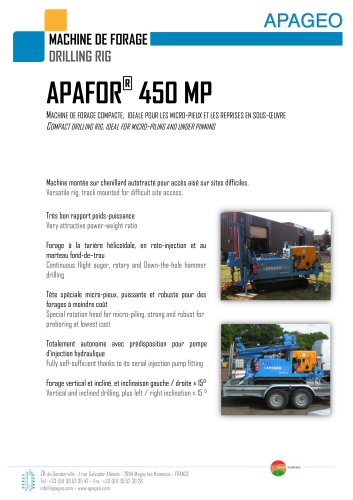 P. 2

APAGEO MACHINEDEFORAGE DRILLING RIG APAFOR® 450 MP General information ■ Mechanically welded steel frame mounted on...
Text version
All APAGEO catalogues and technical brochures