Manual spring tester Springtest T1 -
2 Pages
SPRINGTEST TI
Spring tester
ANDILOG
High capacity manual spring tester
The SPRINGTEST TI series is a very simple
and economical system for checking com-
pression springs in one point. The force
gauge gives the force applied, the displace-
ment sensor on the side shows the flexion
or height measured under load. With its
revolving hand crank, it is designed to per-
form tests from low capacity ( I ON) to high
capacity (2000N) with quick results. The
manual test stand features a small footprint,
durable design, portable and a optional a
digital travel display. Combined with our
Centor force gauges, the SPRINGTEST TI
can measure any compression spring in pro-
duction or laboratory for an affordable
price.The parallelism of the lower plate can
be adjusted to ensure correct seating for
the spring.
System includs:
- Manual test stand TEX555
- Force gauge Centor Easy with internal
sensor up to 1000N or external sensor for
the 2000N version
- Digital ruler length 150mm
- Compression plate diameter 50mm
- Self-levelling plate diameter 80mm
- Certificate of calibration traceable
COFRAC
to
Options - Softwares
CALIGRAPH software compatible: Data RSIC software compatible : Download your
acquisition and analysis of curves with real results to Microsoft Excel using your RS232
time graphing thru RS232 or USB. comport.

 

ANÓÏLÖG""

 
 
 
 

 

¿fe-. —;

 

9 H H H

 
U .«■ O: O
... iá-M
Models & capacities
SPECIFICATIONS iSPRINGTESTTI-100 SPRINGTEST TI-500 SPRINGTEST Tl-1000 SPRINGTEST TI-2000
Capacity
0 - I00N
0 - 500N
0 - I000N
0 - 2000N
Accu
racy
0.1 N
0.5 N
IN
2N
Force resolution
0.0 IN
0.05N
0.IN
0.2 N
Travel
150 mm
150 mm
150 mm
150 mm
Displacement resolution
0.01 mm
0.01 mm
0.01 mm
0.01 mm
Specifications
FEATURES
Accurac
Resolution
Units
Bargraph
Sampling rate
Tare
Auto-off
Force limit
Low battery indicator
Memory for setup
WIRETESTTI
0,1 % FS
I /10 000 FS
Display peak and current reading in the
same time
N, Lb, Kg, g, Oz
I 000 Hertz
Average and standard deviation
Peak in tension and compression
FEATURES
RS232 output
Fast charge
Reversible display
Digimatic output
Backlit display
Adjustable from 5 to 15 min
Metal casing
Power supply
WIRETESTTI
Send current reading,, peak or
minimum
Sensor protected from overloads up to
200% of its capacity_
Operates on rechargeable batteries
Operation without recharging_
8 hours
Protective elastomer overmould
I I0V/220V
ANDILOG Technologies - BP 62 001 - 13 845 Vitrolles Cedex 9 • info@andilog.com «Tél. : +33 820 888 202 • Fax : +33 820 888 902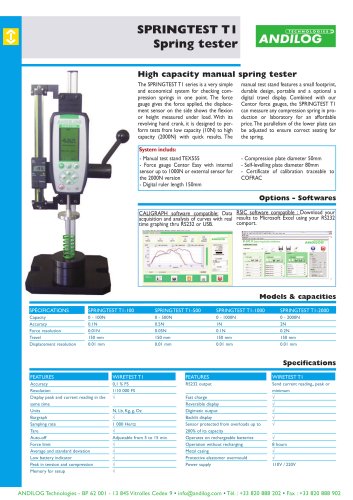 Text version
All ANDILOG Technologies catalogues and technical brochures
Archived catalogues
Motorized test stand STENTOR II

2 Pages

Manual test stand TEX555

2 Pages