M-Series- BaseLine Gemini Plate Heat Exchanger -
3 Pages
.
kyCross-contamination safe double wall plates
M-Series/BaseLine Gemini Plate Heat Exchangers
.
Application
General cooling/heating for pharmaceutical, brewery and beverage
applications when a mix-proof design is required. To secure the
cross-contamination safe feature, water or water-like fluids are
recommended.
Working principles
Channels are formed between the plates and the corner ports are
arranged so that the two media flow through alternate channels. A
unique distribution area provides an efficient flow over the plate surface.
The heat is transferred through the plate between the channels, and
a complete counter-current flow is created for the highest possible
efficiency. The chevron corrugation of the plates provides the passage
between the plates, supports each plate against the adjacent one and
enhances turbulence. The high turbulence resulting in efficient heat
transfer and high surface shear forces to minimise fouling and the
build-up of biofilm. The plates are reversible and have a parallel flow,
which means that only one type of gasket is needed.
Heat exchanger design
The plate heat exchanger consists of a pack of corrugated metal
plates with port holes for the passage of the two fluids between which
heat transfer will take place.
The plate pack is assembled between a fixed frame plate and a
movable pressure plate and compressed by tightening bolts. The
plates are fitted with a gasket, which seals the inter-plate channel and
directs the fluids into alternate channels. The number of plates is
determined by the flow rate, physical properties of the fluids, pressure
drop and temperature program. The plate corrugations promote fluid
turbulence and support the plates against differential pressure.
The plate and the pressure plate are suspended from an upper
carrying bar and located by a lower guiding bar, both of which are
fixed to a support column. Connections may be located in the frame
plate and/or in the pressure plate.
Gemini plates
The Gemini plates consist of two plates with a small air gap in between.
The Gemini double wall plates will give a cross-contamination safe
design, as a crack in a plate will not result in mixing of the two media.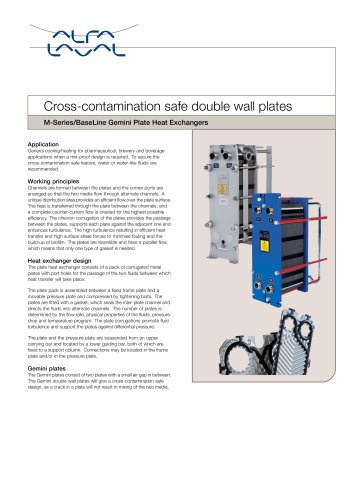 Text version
All Alfa Laval catalogues and technical brochures