High Voltage Catalog -
52 Pages
"A" Series High Voltage Plugs
A600BXX
'-2.00-►

■<-1.55-»|

 

H3Efl-


 
A801BXX
A601
AOOO.xxx
I Part

1 Number

Voltage

Rating

Material

Pg. 47

Wire

Pg. 46

Description

I A600BXX

to 20KV

3

B

Single circuit straight plug.

A801Bxx

to 20KV

3

B

Single circuit straight plug with

threaded back.

A601

N/A

3

None

Single circuit straight plug for

threaded stud mounting.

AOOO.xxx

to 20KV

3

None

Single circuit straight plug for

field installation.t
A000 .XXX
A000.125 .12 ID
A000.165 .16 ID
A000.220 .22 ID
t Different internal diameters (.xxx) available to suit wire size.
Electrical rating dependent on wire selection and assembly.
Consult factory for details.
L* Specify lead length (xx) in inches, standard strip, 3/8".
Mates with most "A " Series receptacles.
Special order wire types available, see page 46. To place your
order, see page 49 for additional information.
ALDEN Products Company
117 N. Main Street • Brockton, MA 02301 • (508) 427-7000 • Fax: (508) 583-0164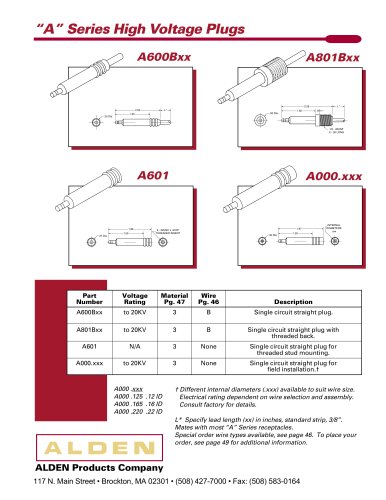 P. 32

40,000 Vb/is DC "B" Seríes Higfi Voltage Connectors 2.56- (64 3) B Series - Quick Lock Self Sealing Moisture Resistant High Voltage Connectors....

P. 33

55 KV55,000 Volts DC "P5" SeriesHigh Voltage ConnectorsP5 Series - Designed for use with high voltage, high power electronic equipment cooled...

P. 34

1/1/ f % If 60,000 1/blfs DC "P6" Seríes High Voltage Connectors P6 Series - Completely shielded miniature high voltage connector especially...

P. 35

75,000 Volts DC "P7" Seríes High Voltage Connectors P7 Series - A high performance high voltage connector for applications requiring the...

P. 36

High Voltage PlugsHigh Voltage Plugs• Insert Molded• Precision Contacts• Multi-Cycle Capability• Rugged ThermoplasticMaterials

P. 38

"A" Series High Voltage Plugs A800BXX A700BXX A703Bxx PartNumberVoltageRatingMaterialPg. 47WirePg. 46DescriptionA800BXXto 20KV3BSingle circuit...

P. 39

"F" Seríes High Voltage Plugs F602DXX F600 6-32UNCX.31DP "THREADED INSERT F800.XXX UB- © PartNumberVoltageRatingMaterialPg....

P. 40

"F" Seríes High Voltage Plugs F901DXX ES F702DXX F701DXX PartNumberVoltageRatingMaterialPg. 47WirePg. 46DescriptionF901 Dxxto 35KV3DSingle...

P. 41

CRT Anode Caps AndEncapsulated Circuitry• Most JEDECStyles• InsertMolded ForOptimumHighVoltageInsulation• EntireCircuitsCan Be Fully...

P. 42

J201YCXX J202MAXX PartNumberJEDECContactMaterialPg. 47WirePg. 46DescriptionJ203BXXJ1-217BStraight cap with button contact.tJ 200YCxxJ1-217YC90°...
Text version
All Alden catalogues and technical brochures